Pet Transportation Turkey IPATA Certificate
IPATA (International Pet and Animal Transportation Association) was founded in 1979 with the scope of providing competent, professional and concerning for pets relocation/transportation services within USA firstly and then around the whole world.
The members of IPATA are very experienced pet shippers, whose collective collaboration and effort help the pet owners transport their pets with high level of care. Firstly, there were only 6 members of IPATA (in 1979), however nowadays there are over 325 pet shippers in IPATA, rendering their services in over 70 countries and their airports. All IPATA members are licensed legal entities in their countries with rights to deal with pet transportation and strictly obey the regulations and rules of the Animals Regulations of IATA (International Air Transport Association). All US IPATA members are listed among registered members in USDA (U.S. Department of Agriculture) and obey the regulations and rules of the USDA's Animal Welfare Act.
All members of IPATA are ready to assist to moving of your family's VIP (Very Important Pet) and give you the answers to all your questions, even to those you didn't mind to ask. Professional pet relocation assistants possess exceptional knowledge in flight regulations, flight container requirements, pickup and delivery arrangements, quarantine, boarding processes, import and export customs clearance arrangements and proper identification. Moreover, professional pet mover assistant follows all changes in rules, regulations and restrictions and if necessary makes needed adjustments to relocation process of your pets.
Mission Statement of IPATA
"The International Pet and Animal Transportation Association is a non-profit trade association of independent members who are dedicated to the safe and humane transport of pets and other animals"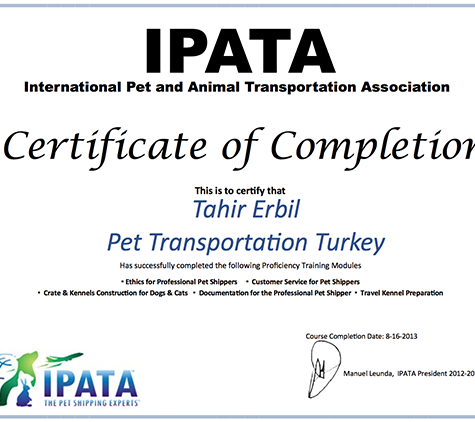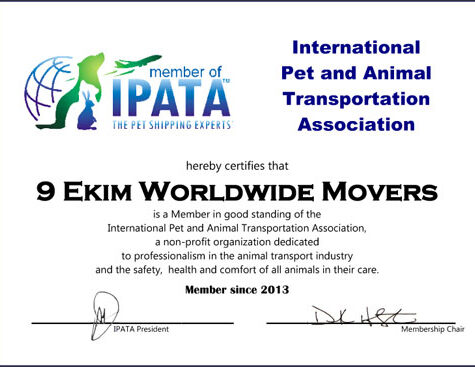 Company Culture
Competence
Specialization
Institutionalism
We have a corporate culture, we treat our employees equally, we provide special trainings to improve their personal/vocational education.
9 Ekim is the Only Licensed Customs Consultancy Firm, which is affiliated to the Ministry of Customs and Trade of the Republic of Turkey, offering Customs Clearance Services for Pets in Turkey. Our rules and procedures are clear, you do not pay any extra fees. That's why those who work with us are always one step ahead.
All of our staff are experts and trained in their fields, and four different languages are spoken and written fluently in our company.
We have clear and clearly defined rules. We don't break the rules. Thanks to our experienced staff and departments, we take quick decisions and implement them.
Overseas VIP door-to-door Service (we pick up your pets from your house and deliver it to your address in...
All entry clearence procedures, Destination delivery, Consulting Service, Other services...
Your Pet will go to any country abroad or will be imported from abroad and you don't know the customs law…
Selenium Residence B Blok D:121,
Ataköy, Bakırköy / İstanbul
+90 444 12 37
+90 212 854 27 05
In a mutual previously appointed date and time, we make a vocal and visual online joint meeting session for 10-20 minutes.